Elizabeth Saunders Home is funded by the national government to meet basic requirements for children's living and education.
However, the amount does not suffice to cover more than the basics or to realize an environment commensurate with that of an ordinary home.
Without a means of earning funds on our own, it is essential for us to ask for donations from people of good will.
We sincerely hope that people sympathize with our mission and consider making donations to our cause worthwhile. Please find the following ways to support us.
General Donations (tax-deductible)
1. About remittance method
A. If you would like to use the dedicated website for internet-based remittance,
Please click the button below.
B. If you would like to use bank transfer,
① Remittance from JP Bank
| | |
| --- | --- |
| Account No. | 00220-3・0017520 |
| A/C Holder Name | Elizabeth・Saunders・Home |
Please use the red-colored payment handling slip.
Handling fee is borne by ESH.
② Remittance from banks other than JP Bank
| | |
| --- | --- |
| Bank Name | Japan Post Bank Co., Ltd. |
| Bank Code | 9900 |
| Branch No. | 029 |
| Deposit Type | Current |
| Branch Name | Branch 029 |
| Account number | 0017520 |
| A/C Holder Name | Elizabeth・Saunders・Home |
Transfer fee needs to be covered by the donor.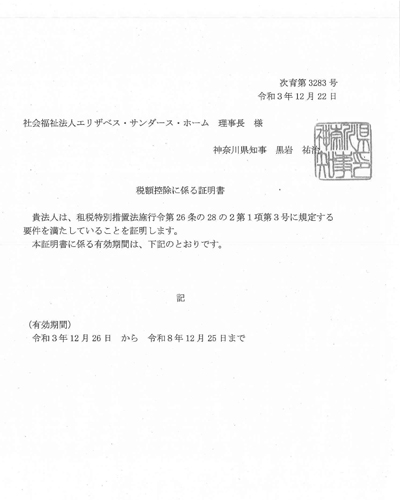 2. About Tax Deduction
A. We will send donors a receipt to make them eligible for tax deduction from their income taxes.
B. In order to get a tax deduction, the donor is required to file tax returns before the due date for the year preceding the relevant year. For more information as to filing tax returns, please contact your competent tax office.
C. If you need more information regarding donations, please contact us in the following.
1152 Oiso, Oiso-machi, Naka-gun, Kanagawa-ken, 255-0003 Japan
Elizabeth Saunders Home Donation Div.
0463-61-0007
Tel:0463-61-0007
Fax:0463-61-7000
About legacy donations (preferential tax treatment available)
In addition to the legitimate heir, the donor can designate Elizabeth Saunders Home as a beneficiary to receive legacy in his/her will. If you consider legacy donations, you may want to get advice from your own banks or to be referred to ESH's legal professionals who are the specialists with abundant experiences in this field. Please contact us by referring to the contact information below.
For your information, the legacy donated to ESH is in principle not regarded as a taxable inheriting property.
1152 Oiso, Oiso-machi, Naka-gun, Kanagawa-ken, 255-0003 Japan
Donation Divison of Social Welfare Corporation Elizabeth Saunders Home
0463-61-0007
Tel:0463-61-0007
Fax:0463-61-7000