Elizabeth Saunders Home is funded by the national government to meet basic requirements for children's living and education.
However, the amount does not suffice to cover more than the basics or to realize an environment commensurate with that of an ordinary home.
Without a means of earning funds on our own, it is essential for us to ask for donations from people of good will.
We sincerely hope that people sympathize with our mission and consider making donations to our cause worthwhile. Please find the following ways to support us.
General Donations (tax-deductible)
1. About remittance method
A. If you would like to use the dedicated website for internet-based remittance,
Please click the button below.
B. If you would like to use bank transfer,
① Remittance from JP Bank
| | |
| --- | --- |
| Account No. | 0220-3・0017520 |
| A/C Holder Name | Elizabeth・Saunders・Home |
Please use the red-colored payment handling slip.
Handling fee is borne by ESH.
② Remittance from banks other than JP Bank
| | |
| --- | --- |
| Bank Name | Japan Post Bank Co., Ltd. |
| Bank Code | 9900 |
| Branch No. | 029 |
| Deposit Type | Current |
| Branch Name | Branch 029 |
| Account number | 0017520 |
| A/C Holder Name | Elizabeth・Saunders・Home |
Transfer fee needs to be covered by the donor.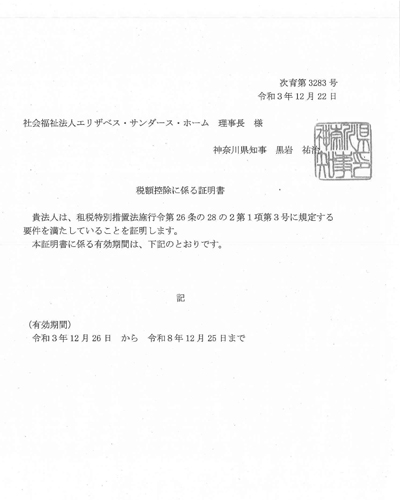 2. About Tax Deduction
A. We will send donors a receipt to make them eligible for tax deduction from their income taxes.
B. In order to get a tax deduction, the donor is required to file tax returns before the due date for the year preceding the relevant year. For more information as to filing tax returns, please contact your competent tax office.
C. If you need more information regarding donations, please contact us in the following.
1152 Oiso, Oiso-machi, Naka-gun, Kanagawa-ken, 255-0003 Japan
Elizabeth Saunders Home Donation Div.
0463-61-0007
Tel:0463-61-0007
Fax:0463-61-7000
ESH Supporters Club (Membership fee not eligible for tax preferential treatment)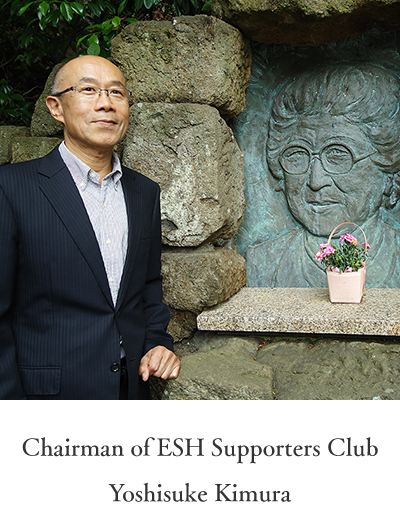 Please join our club and make donations through membership.
Yoshisuke Kimura, Chairman of ESH Supporters Club
I am truly grateful for your continued support to ESH.
It is not hard to imagine even from today's perspective how difficult it must have been for Miki Sawada to take in the biracial children born between the Occupation soldiers and Japanese women after the end of war. She dauntlessly undertook the mission to take care of those ill-fated children against the backdrop of pandemonium the entire country was going through in the aftermath of war.
What motivated Miki Sawada to carry on such a fearless mission despite many adversities and pains, I believe, was her unswerving faith in God. Also, we should not dismiss the fact that an ever-expanding support of goodwill continued to reach her from the advocates to her undertakings. In other words, had it not been for such support, there would have been no Elizabeth Saunders Home existing today.
After decades elapsed, ESH has been rooted firmly in Oiso and continues to play a pivotal role in performing social welfare services as well as providing cultural activities on the three pillars of its operations; namely ESH children's home, "Aobato" and "Miki Sawada Memorial Museum," aiming to meet the changing needs of the society.
In order to restore happy smiles on children's faces and to let them fulfill their potential, our support, however insignificant each of it may seem, is essential and can convey the valuable message of hope toward the bright future of the children. I would appreciate very much for your continued support and encouragement for the future of the children.
Please join ESH Supporters Club!
ESH Supporters Club is organized to support ESH operations.
Annual membership fee is ¥5,000 for an individual member and ¥10,000 for a corporate member. Our newsletter "Kakehashi[bridge-builders]" is sent out periodically to the members.
Please contact us for application in the following ways. We will send you an application form.
1152 Oiso, Oiso-machi, Naka-gun, Kanagawa-ken, 255-0003 Japan
Secretariat for Elizabeth Saunders Home Supporters Club
0463-61-0007
Tel:0463-61-0007
Fax:0463-61-7000
About legacy donations (preferential tax treatment available)
In addition to the legitimate heir, the donor can designate Elizabeth Saunders Home as a beneficiary to receive legacy in his/her will. If you consider legacy donations, you may want to get advice from your own banks or to be referred to ESH's legal professionals who are the specialists with abundant experiences in this field. Please contact us by referring to the contact information below.
For your information, the legacy donated to ESH is in principle not regarded as a taxable inheriting property.
1152 Oiso, Oiso-machi, Naka-gun, Kanagawa-ken, 255-0003 Japan
Donation Divison of Social Welfare Corporation Elizabeth Saunders Home
0463-61-0007
Tel:0463-61-0007
Fax:0463-61-7000